Dear Michelle,

How should I handle it when someone leaves a nasty comment or writes something bad about my blog in one of their posts? What should I do?

I get this question every so often but I talked rather extensively with Loralee at Loralee's Looney Tunes not too long ago so I'm paraphrasing her question--leaving out the not-so-pretty particulars.

There are a couple of things to remember with a situation like this:

1. People who are truly nasty cannot be swayed by your articulate, logical and highly intelligent responses. Even if you're much smarter and better looking than they are.

2. Your words are permanent and they can come back to haunt you.

Now one of the oddities of the mom blog niche--or to expand it to blogs by women in general and parenting blogs by dads too--is that people are usually very, very nice. Now this doesn't mean that you're not going to get the occasional psychopath out to prove something by verbally taking you down but those situations are pretty rare.

If you spend much time in various blogging circles or shoot, just find any random video on You Tube and read the first dozen comments it got and you'll see that there are plenty of crazies out there who just want to get their words noticed. However, the mom blogging community is usually a kinder, gentler place to hang out, normally we're civil, polite and supportive.

That doesn't mean, however, that you can't get lucky one day and wake up to find you've been called out by someone named "Ann Onymous" because the post you wrote about your daughter chasing a Canadian goose on the library lawn offended her environmental sensitivities and now you've been officially labeled a Hater of Geese. Especially endangered ones.

I've had enough of these things happen that whenever I see a comment with "Anonymous" by it I always take a tiny little breath for fear of what's coming next--you'll notice that almost any time someone leaves a mean comment they leave it anonymously. I think that's because most of those people tend to be wandering through and just want to sock you in the gut before they leave to show that you're really not so great as others might think you are. And that's probably true--just ask my kids. Regular readers hardly ever leave unpleasant words, if they disagree with you they'll usually say so politely or say nothing at all.

Should It Stay or Should It Go?
So how do you handle mean comments? First you have to decide if you'll delete them. Here's a nice little flow chart I've designed to show how I handle the "to delete or not to delete" dilemma: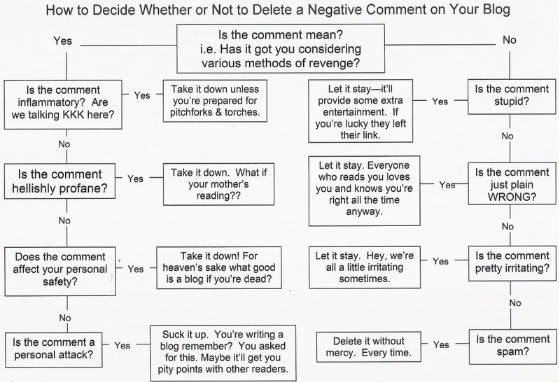 To give you an example, a year ago our church burned down and it got a lot of coverage in the news. I had many comments on my post, most of them very supportive however there were one or two that had an edge to them. One suggested that the fire was an act of God punishing our congregation for not being true believers and I couldn't decide whether to let it stand or not. I did but I shouldn't have. I wanted to show that I wasn't afraid of criticism but instead it just irritated a volatile reader and things escalated into a name-calling session. I ended up deleting a few of the comments but I probably should have nipped everything in the bud by not allowing the first inflammatory remark to stand.

You Say it Best When You Say Nothing At All
But once you decide if you're going to let a comment stay you have to decide a second thing: How are you going to respond? What if they write something mean about you on their own blog? I remember reading a blog that shall remain nameless and a commentator criticized the writer for using foul language in a earlier post. The commentator was right, there was foul language though I personally would have clicked out rather than stayed to criticize. Well it sent the blogger into a fury and she wrote a revenge post that was awful. Awful and brutal--think Braveheart meets Gladiator only not so cheerful and sweet--in essence she stuck the reader's head on a pike to stand as a warning to all who might dare criticize in the future.

I never visited her blog again.

Be careful how you treat readers, even the negative ones. Not just for fear of them never returning--rude ones probably never will anyway--but because it's common courtesy and because they're people too with thoughts and opinions that won't always mesh with yours and darn it, that's what makes the world so exciting. Who knows? Maybe they're even right once in a while.

Going after someone like that is never effective in opening discussion or changing opinions or improving your image. Letting lose your inner shrew just turns people off and it should only be used in the most dire circumstances for nasty people like Frigidaire executives and rotten stinkin' appliance repair services right?

Finally, I'm going to end with one more example. I got an email a week ago and I'm reprinting it here as an example of "Please learn from my mistake." I've edited it to keep the writer anonymous.

[Jane Doe Blogger] here! I have enjoyed reading your blog. I hope you don't mind, but I spotted a typo which you might want to correct.

Here's the line with the typo:

[Here she quotes a line from one of my posts of the previous week with the error highlighted in

red

.]

In case you can't see the red word, I think you meant to type "peek" instead of peak.

While no one is perfect, correcting typos helps make your site easier to read and gives it a more polished look. I know how difficult it is to proof your own work, and some typos slip through the spell check feature.

If you don't feel like fixing it, ignore or delete this email.

Doing my part to help clean up the internet,
one typo at a time…

If you found this helpful you can visit me at my site then click the link below or cut and paste the link into your browser and use PayPal to make a donation for my time. 10% of every PayPal donation will go to [a certain literacy charity].
I'm afraid that this email caught me at a bad time and I reacted instead of acted and I was slightly irked.
How can she say she reads my blog when it's obvious she doesn't? She only found one typo in seven days worth of posts--that's pretty darn good! Who is she to criticize me? Does she realize how inconvenient it is to go back and republish a week-old post? She wants a donation for this??
First, I made the classic mistake of writing an email back. I told her a definite no thank you and though I wasn't completely rude I did let her know I wasn't impressed. Surprisingly, she responded much better than I did with heartfelt and sincere apologies. She had no idea that she'd irritate me and didn't think that asking for donations to point out typos was such a bad thing--a friend had suggested that since she was good at it maybe she should set up a site to try and capitalize on her talent. On and on until I felt smaller and smaller for getting slightly riled up.
I still think she was way off to try it but I think my response was wanting in grace and class--something that the internet can always use more of. The best response to those kinds of things? Don't respond. Just ignore them, let them go completely, but if you MUST respond (getting in the last word can be a horrible temptation) then wait at least 24 hours before doing so. After a good night's sleep. And a dish of your favorite ice cream. It'll help you to approach things rationally and civilly (as least as much as possible.)
It's that old, "If you can't say something nice don't say anything at all" and it applies to bloggers just as much as readers. Besides, nice
always
wins out in the end.
***

If you have other questions you'd like me to tackle, leave them in the comments because I'm always looking for good ones to write about. If you'd rather you can save them for July and meet me at
Blogher 2008
in San Francisco where I'll be speaking July 18th about tips for new bloggers--I'm looking forward to meeting some of the wonderful bloggers I've met over the last two years. See you there!
Technorati tags:
blogging,
motherhood,
Alaska